I can't log in
First, make sure that you use the right e-mail address (the one you gave when you created your customer account). Then check the spelling of your e-mail address.
If you have any difficulty, please call us:
France: 03 89 71 74 64
Other countries: 0032 81 30 52 40
I FORGOT MY PASSWORD
1. Go on the page "Log in" and click on the link "Password forgotten?"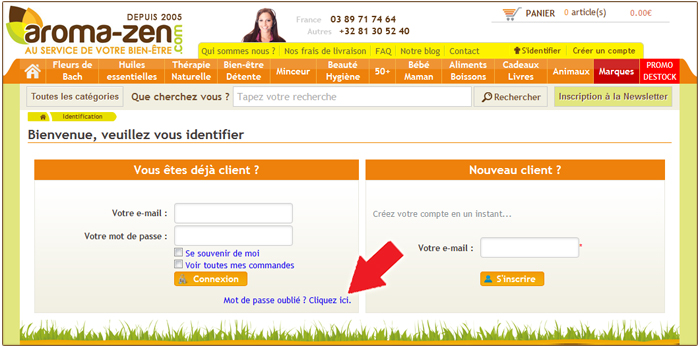 2. Enter the e-mail address you used when you created your client account. You will automatically receive an e-mail with a new password (if you don't receive this e-mail, please check your spams).
If you have any difficulty, please call us:
France: 03 89 71 74 64
Other countries: 0032 81 30 52 40
Copyright© 2004-2019 Aroma-zen SPRL n°Siret 51151936500015 - VAT number FR65511519365 - VAT number BE0425925218 | Website created by www.prosolit.be